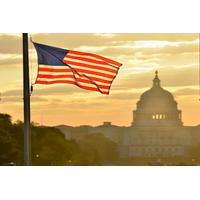 Military Times - Comprehensive toxic exposure legislation that could provide new health care and disability benefits to millions of veterans is headed to the White House to become law after Senate lawmakers ended a week of turmoil surrounding the bill with a strong bipartisan vote.
The Promise to Address Comprehensive Toxics Act — better known as the PACT Act — was adopted Tuesday by a 86-11 vote after a lengthy series of procedural moves by senators.
Advocates called the move a historic change in how the Department of Veterans Affairs approaches toxic exposure injuries, in particular ones caused by burn pits used in combat zones. It was also the culmination of years of lobbying for sick veterans and nearly a week of constant protest on Capitol Hill.
One week ago, 42 Senate Republicans blocked consideration of the measure in a surprise move that left veterans advocates panicked and upset.
But after five days of an around-the-clock "fire watch" on the Capitol steps by veterans — some of whom suffer from burn pit injuries from their service — the GOP lawmakers relented and allowed the legislation to move forward.
"This was all of us coming together for our veterans," said Rosie Lopez-Torres, co-founder of the advocacy group Burn Pits 360, which helped author the legislation. "Knowing that we now have what we've been waiting on for 13 years, I think it's time for a celebration."

Read the full Military Times Article HERE
---