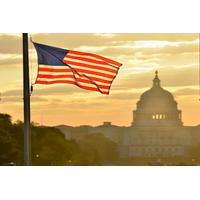 WASHINGTON–– U.S. Senators John Boozman (R-AR) and Richard Blumenthal (D-CT), senior members of the Senate Veterans' Affairs Committee, introduced legislation to hold unaccredited entities that target men and women who served in uniform accountable for their predatory practices. The Governing Unaccredited Representatives Defrauding (GUARD) VA Benefits Act would reinstate criminal penalties for unaccredited claim representatives who charge unauthorized fees while helping file a disability claim.
Current law prohibits unaccredited individuals and businesses from charging a fee for assisting a veteran in the preparation, presentation or prosecution of a VA benefit claim. However, the VA and other federal agencies are limited in their ability to enforce the law because criminal penalties were eliminated from the statute nearly 20 years ago.
"Ensuring veterans have the resources to make informed decisions about filing VA claims is an important part of helping them access the benefits they've earned. They also deserve to have trusted and reliable advocates working on their behalf, which is why we must hold accountable those aiming to make a profit off their service. I'm proud to join Senator Blumenthal to strengthen education of the claims process and hold bad actors responsible for their predatory practices," said Boozman.
"This measure ensures veterans can access their rightfully-earned benefits free of charge," said Blumenthal. "Stronger safeguards are needed to protect those who served our country from wrongdoers hoping to cash in on the onerous claims process. Holding profiteers accountable through criminal penalties is an important step that will support our heroes. I'm proud to join Senator Boozman in this effort to prevent our veterans from being exploited."
The legislation is cosponsored by Senators Jon Tester (D-MT), Lindsey Graham (R-SC), Lisa Murkowski (R-AK), Angus King (I-ME), Jacky Rosen (D-NV), Bernie Sanders (I-VT), Sherrod Brown (D-OH), Mark Kelly (D-AZ), Ron Wyden (D-OR), Dianne Feinstein (D-CA), Amy Klobuchar (D-MN), Maggie Hassan (D-NH), Michael Bennet (D-CO) and Mike Braun (R-IN).
The bipartisan measure has the support of numerous veterans advocacy organizations. Here is what they are saying about the GUARD VA Benefits Act:
"The Military Officers Association of America wholeheartedly supports the GUARD VA Benefits Act," said Lt. Gen. Dana T. Atkins, USAF (Ret), MOAA president and CEO. "Veterans deserve better than having a target on their back by predatory claims sharks looking to profit off their service and conditions. MOAA thanks Senators Boozman and Blumenthal for their bipartisan leadership on this bill and their commitment to ensure veterans are protected from scammers with accredited and accountable representation."
"For many of our nation's disabled veterans, VA disability compensation can be the difference between making ends meet and more severe outcomes such as homelessness. That's why it's so vitally important that veterans are properly represented by accredited individuals and institutions when applying for VA benefits. DAV applauds Senator Boozman and Senator Blumenthal for introducing this legislation, which will help ensure disabled veterans receive VA-accredited representation while deterring predatory practices that seek to bilk our nation's heroes of their earned benefits," said DAV National Commander Joe Parsetich.
"The VFW strongly supports the GUARD VA Benefits Act which would put guardrails in place to protect veterans from entities seeking to take their hard-earned benefits. Reinstating penalties for people charging unauthorized fees relating to veteran claims is a necessary action to prevent claims sharks from preying upon veterans. The VFW thanks Senators Boozman and Blumenthal for their continued bipartisan support for service members, veterans, and their families," said Pat Murray, VFW's National Legislative Director.
Introduction of the GUARD VA Benefits Act builds on the senators' commitment to protecting veterans filing VA claims. In September, Boozman and Blumenthal introduced the Veterans Claims Education Act of 2022. This legislation would improve educational resources for veterans filing an electronic benefits claim to steer them toward VA-accredited entities and limit the threat posed by for-profit entities that try to take advantage of the men and women who served in uniform by charging unnecessary and costly fees.
Companion legislation for both initiatives have been introduced in the House of Representatives.
Click here to read the GUARD VA Benefits Act.
---
FOR IMMEDIATE RELEASE
November 15, 2022
Contact: Boozman, Sara Lasure or Matthew Wester (202) 224-4843
Blumenthal, Karolina Wasiniewska (202) 224-0335
---