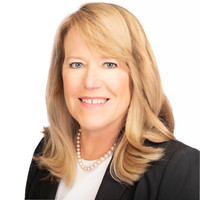 At its recent Judicial Conference, the United States Court of Appeals for Veterans Claims honored NOVA Executive Director Diane Boyd Rauber with the Hart T. Mankin Distinguished Service Award. Judge Michael Allen presented the award to Ms. Boyd Rauber.
The Court recognized Ms. Boyd Rauber for "her outstanding service to the Court as co-author of Justice and the American Veteran: A History of the United States Court of Appeals for Veterans Claims. Ms. Boyd Rauber is commended for her passion for veterans law and her ardent and effective research, interviewing and writing. These talents combined to produce a masterful and comprehensive account of the Court's creation and first three decades and have afforded the Court the honor of preserving and sharing its story through this extraordinary book." The Court also honored Rory Riley Topping, Ms. Boyd Rauber's co-author, with the Hart T. Mankin Distinguished Service Award.
Prior to joining NOVA in September 2015 as Director of Legislative and Regulatory Affairs, Ms. Boyd Rauber served as Associate General Counsel for Appeals with Paralyzed Veterans of America (PVA). She previously worked as of counsel to the Law Office of Wildhaber and Associates and as a staff attorney for the National Veterans Legal Services Program, representing veterans and their families before BVA and the CAVC. She frequently presents at veterans' law conferences, on topics including successful advocacy, legislative reform, and military history research. She also served as a consultant to the American Bar Association Center on Children and the Law.
Ms. Boyd Rauber received her B.S. in Communication Disorders from Penn State University, M.Ed. in Special Education from the University of Pittsburgh, and J.D. from the Catholic University of America School of Law. She is a member of the Maryland and District of Columbia Bar Associations, the CAVC Bar Association, and the Maryland Bar Association Veterans Affairs and Military Law Section, as well as a trustee for the CAVC Historical Society.
Since taking on the role of Executive Director of NOVA in 2016, Ms. Boyd Rauber has overseen tremendous growth in NOVA's membership, testified on NOVA's behalf at various VA-related hearings on Capitol Hill, navigated the organization through the COVID-19 pandemic, and has become a valuable resource and contact for NOVA members on a variety of issues.
---