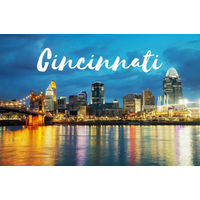 The NOVA 2022 Fall Conference will be held in Cincinnati, Ohio. This conference is intended for both new and experienced veterans law practitioners. The seminar will increase your knowledge, confidence, and expertise in representing veterans before the U.S. Court of Appeals for Veterans Claims (CAVC) and the Department of Veterans Affairs (VA). In addition, your time may be credited to your jurisdiction's CLE requirements. We hope you join us!
We will host our General Session and exhibits on Thursday & Friday (10/27 & 10/28). The reception will be held on Thursday evening, and we will host a speaker Q&A session at the end of the day on Friday.

Our Workshop Session will be held on Saturday, 10/29. Lunch will be provided. Attendees will attend 4 sessions (out of 5 options), and will be required to rank the sessions in their order of preference after registration. A personalized schedule of your session assignments will be sent out prior to the conference. Because these sessions are designed for small groups, there will be ample opportunity for questions/discussion with the presenters and your fellow attendees.

Health and Safety Requirements:
For the Fall 2022 Conference we are not requiring attendees to provide proof of vaccination for COVID-19. While we are not requiring proof of vaccination, we do recommend that attendees are vaccinated per CDC guidance.

NOVA will follow the health requirements of the facility and locality (Hamilton County) at the time of the conference. As of August 8, 2022, neither the Hyatt or Hamilton County requires masking in indoor public spaces, but you should feel free to wear a mask and we will have masks on hand for anyone who wants one.

If you have any COVID-related symptoms such as fever, cough, loss of smell, shortness of breath, or were directly exposed to a confirmed COVID-infected person before you travel or once you are in Cincinnati, we ask that you do not attend the conference.

NOVA will continue to monitor the pandemic and reserves the right to change the policy should there be a change in CDC guidance or Hamilton County rules. You will be required to sign a waiver. Please click HERE to download the waiver for this event.

For more information about the conference and to register, click HERE.
Questions? Email Stacie Lemick at the NOVA office.
---